My family is from the Kickapoo River Valley, a beautiful part of the Driftless Area in Southwest Wisconsin, and for my 49th birthday, I went on a long bike ride through the hills and valleys of this amazing region!
Trout Creek
Starting in Soldiers Grove, I headed north on Highway 61 to Trout Creek Road. This five mile road climbs gradually to Sugar Grove, and I felt a strong sense of nostalgia as I passed by the Schoville homestead where my great-great-grandparents settled on a 40 acre land grant following the Civil War. At the end of Trout Creek Road, I turned north onto County Highway X. There are many Amish farms in this area, and I was greeted by several horse drawn buggies filled with men on their way to work. As I climbed a steep section of X, an Amish man was riding a small children's wagon down the other direction, legs akimbo, smiling, steering with one hand and waving at me with the other. I pulled over on the side of the road to watch, and saw him make it up the next hill!

Turning west on Sugar Grove Road to descend back down into the valley, I encountered my first section of gravel road. My bike has wide tires, so I wasn't too worried, but I went slowly, because the gravel was wet and loose from rain the night before. It wasn't long until I turned on Skrede Road.
Skrede Road
For many years, I worked across the hall from a Skrede, and when the 1940 census came out, I found out that both of our families had homesteaded up Trout Creek. According to my grandma, there was even some talk about the elder Skrede being interested in my widowed great grandmother! With that history, I had to go for a ride up Skrede Road! This gravel road was a lot steeper than I expected and proved too much for my tires, which spun out on the 12% incline, forcing me to walk for a while. I found myself jokingly cursing my coworker's grandfather who cleared this road, and I worried that I was going to be in for a long day if more roads were like Skrede Road.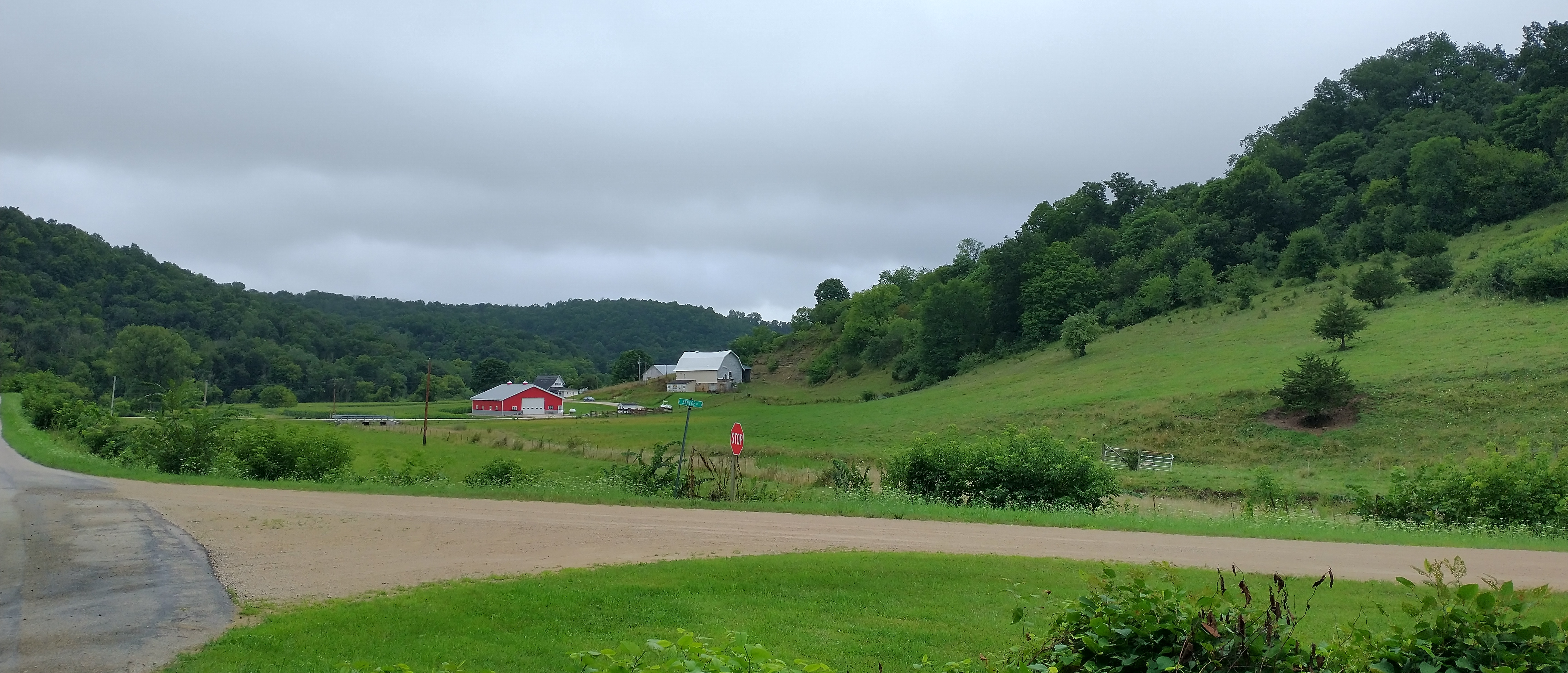 Readstown
Soon I was in Readstown, where my mom grew up, and I rode by my grandparents' house and down past the cemetery where many of my relatives are buried. On the old bridge over the Kickapoo, I stopped to call my mom while an eagle flew overhead. The Kickapoo was muddy, swollen, and beautiful.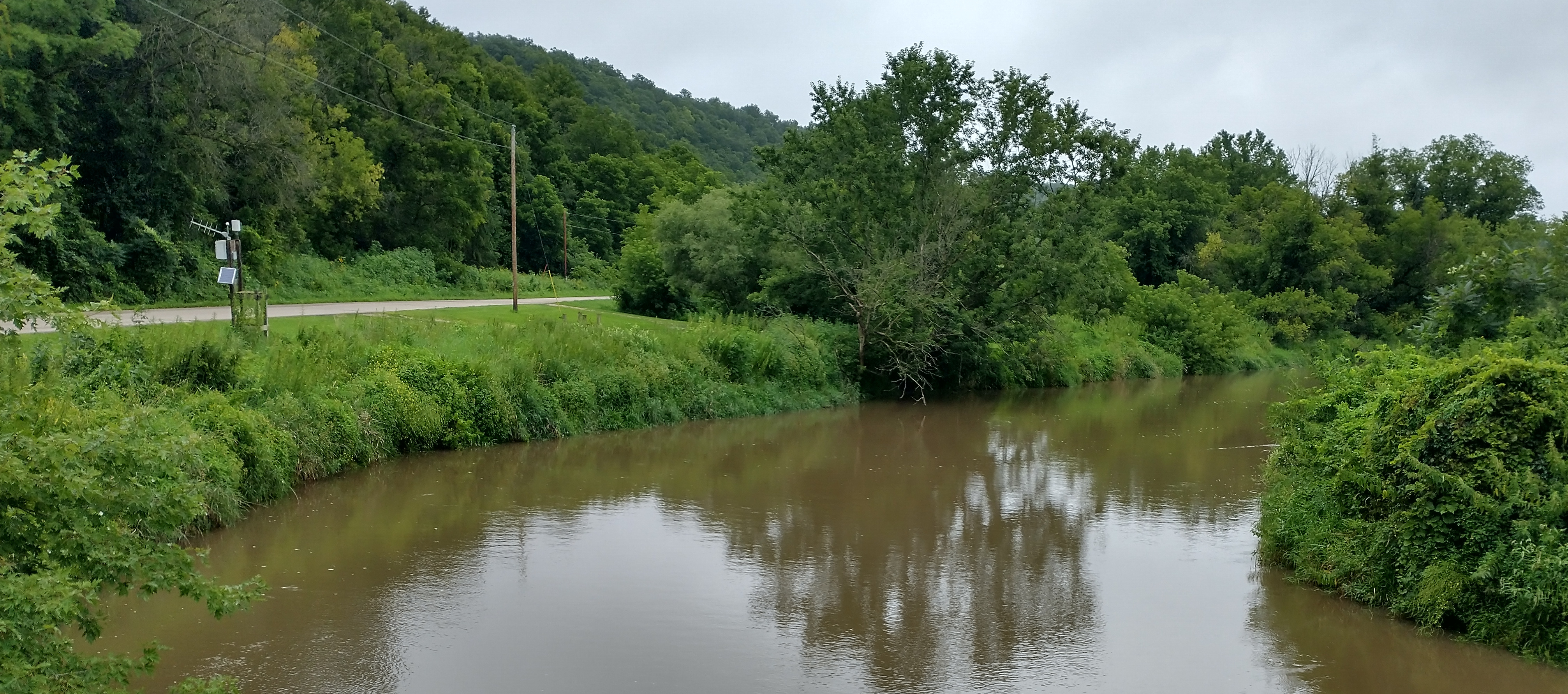 I followed the river road north, past the Larson farm where I used to fish with my dad and brother. The farm house was destroyed by a flood several years ago, and the cow pastures that I used to walk through are now corn fields. I can remember my dad knocking on the door and offering a trout that we had caught, and even though the offer was always refused, it taught his sons a valuable lesson about gratitude and manners.
Crossing the West Branch of the Kickapoo, I made my way past Manning Cemetery and turned on Hankins Road, one of my favorite climbs of the day. This "road" was little more than a washed out gravel trackwith steep sections over 15% gradient. The descent on the other side was the most technical and trecherous on my ride, and I wished again for wider and knobbier tires.
On the other side of the hill, I rejoined the main fork of the Kickapoo and turned north along West River Road. This stretch of the Kickapoo is very windy with a lot of sloughs, swampy areas formed as the river changes direction and leaves small ponds and pools of water behind. I soon found myself in Viola.
Viola
Viola, like many towns along the Kickapoo, has been struck with a lot of misfortune in the past decades, including a tornado in 2005 and several floods, so there isn't much left of downtown.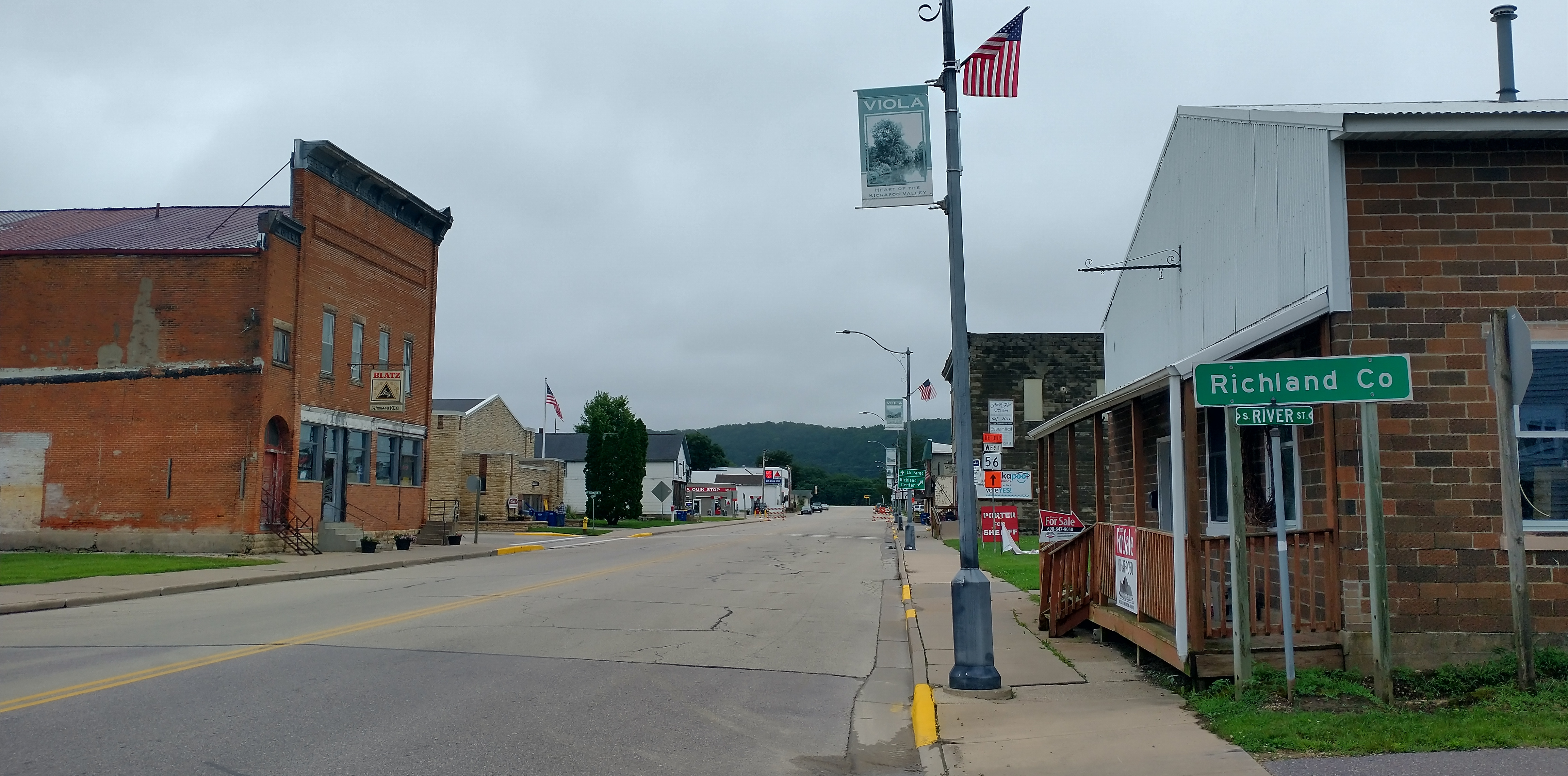 I stopped at the park to take a few pictures and at the Quik Stop for a giant Twix bar and a Coke, which I ate around the corner while looking at my grandparents' house. I then rode around town, past the Methodist church and the gradeschool where my brother and I played as kids.
Back To Manning
Leaving Viola, I took a short stretch of Highway 131 towards La Farge to Chadwick Hollow Road. I chose this road from Google maps to avoid going west out of Viola on Highway 56 towards Viroqua. This gravel road turned out to be a great find and was another of my favorites.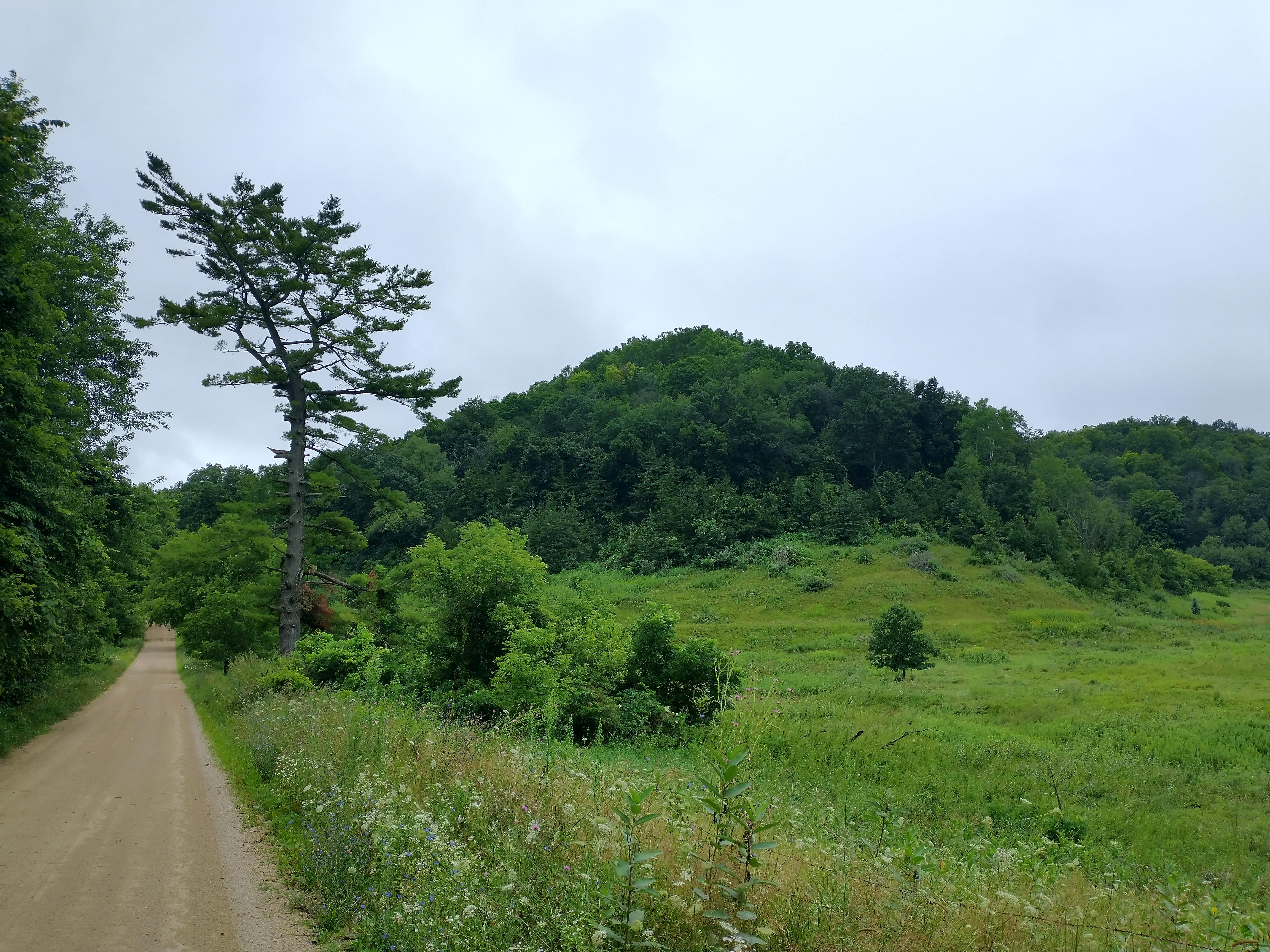 At the top of Chadwick Hollow, I took a left on County Highway SS and planned to turn on Gore Hollow Road, but it no longer exists! I could see where it used to be, all blocked off and overgrown, so I continued on SS to 56. Luckily, 56 was under construction, so there was no traffic, but the descent was a nervous and steep on chopped up asphalt.
At Liberty, I turned back on County Highway S by the West Fork of the Kickapoo, passing the Vance farm, my grandparents' last farm before moving to Viola. Further down the road, I stopped at Manning Cemetery, visiting my mom's parents and remembering my grandma's noodles at the annual fundraising dinner. I've always thought that this cemetery makes a beautiful final resting place.

Having rested and eaten, I made my way back to Harrison Hollow Road and passed the spot where I spent many mornings fishing with my dad and brother.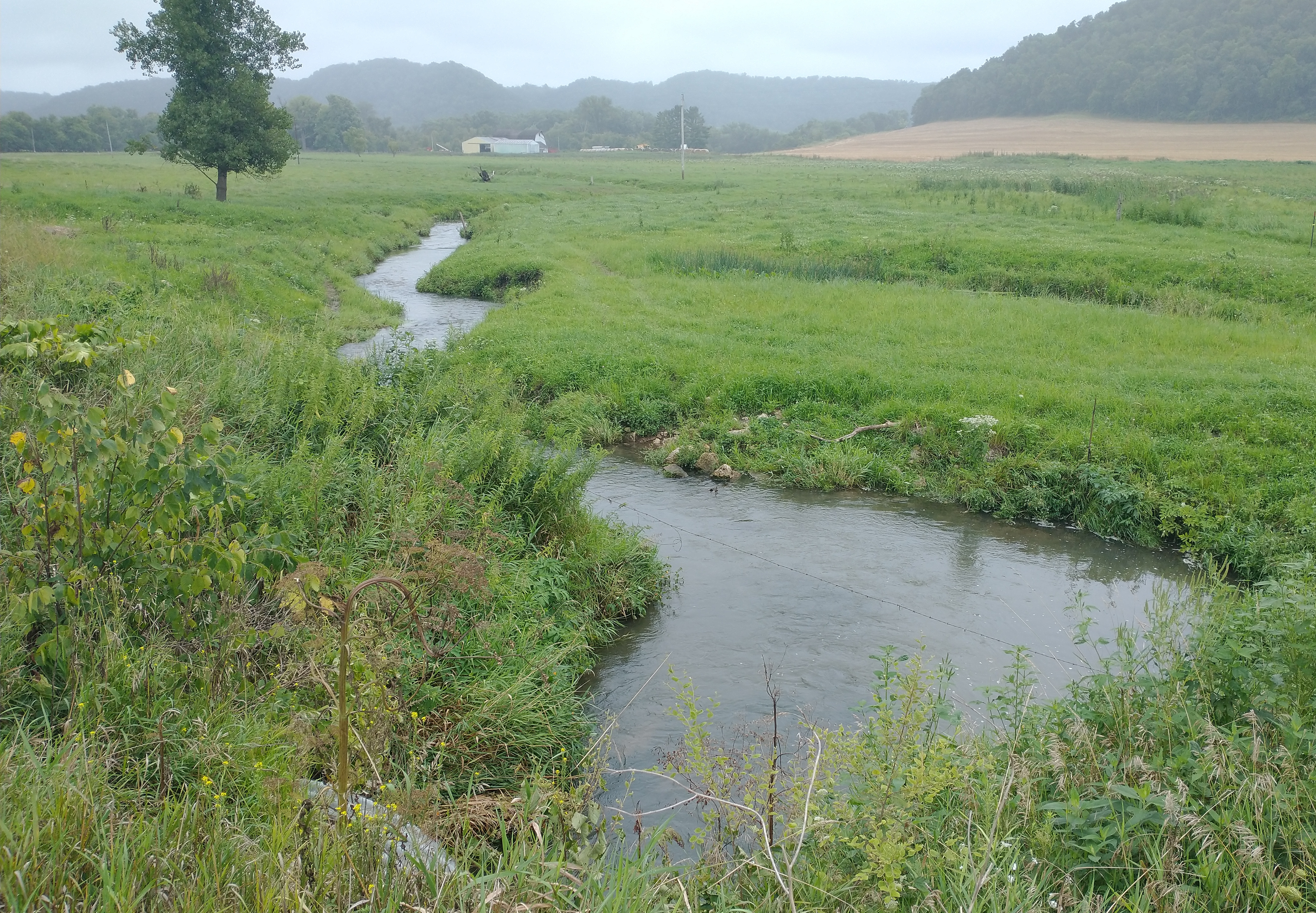 Harrison Valley Road is a nice climb, and at the top I turned left on County Highway T to make my way back to Readstown. Quarries dot the hillsides in this part of Wisconsin, and this derelict one made for an interesting photo.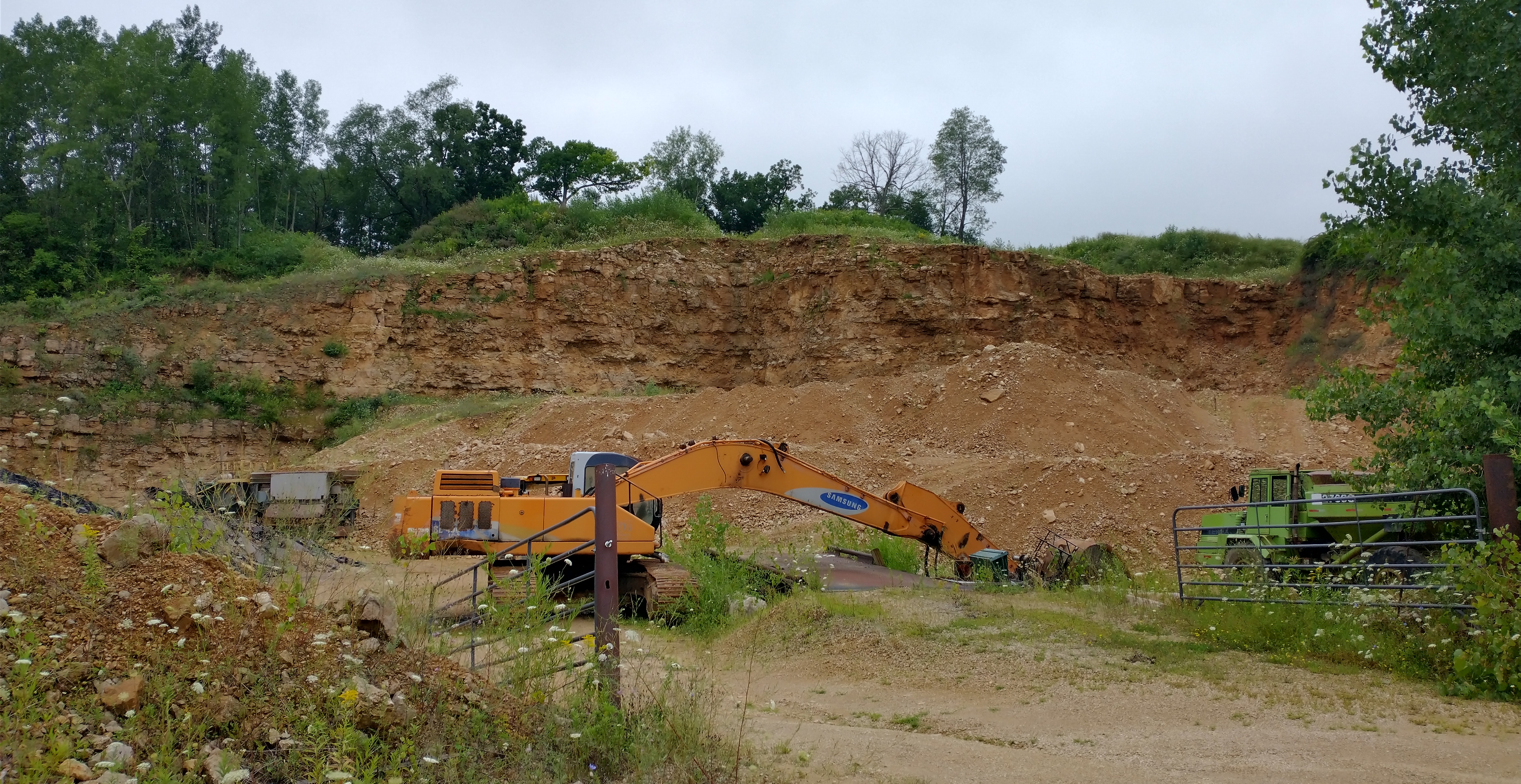 Glass Road and Back To Readstown
Around the corner, I saw the sign for Glass Road, which my great-great grandfather, Aaron Glass, cleared. Turning the corner I faced the steepest section of the whole day! Instead of complaining about Skrede Road, I was cursing my great-great grandfather!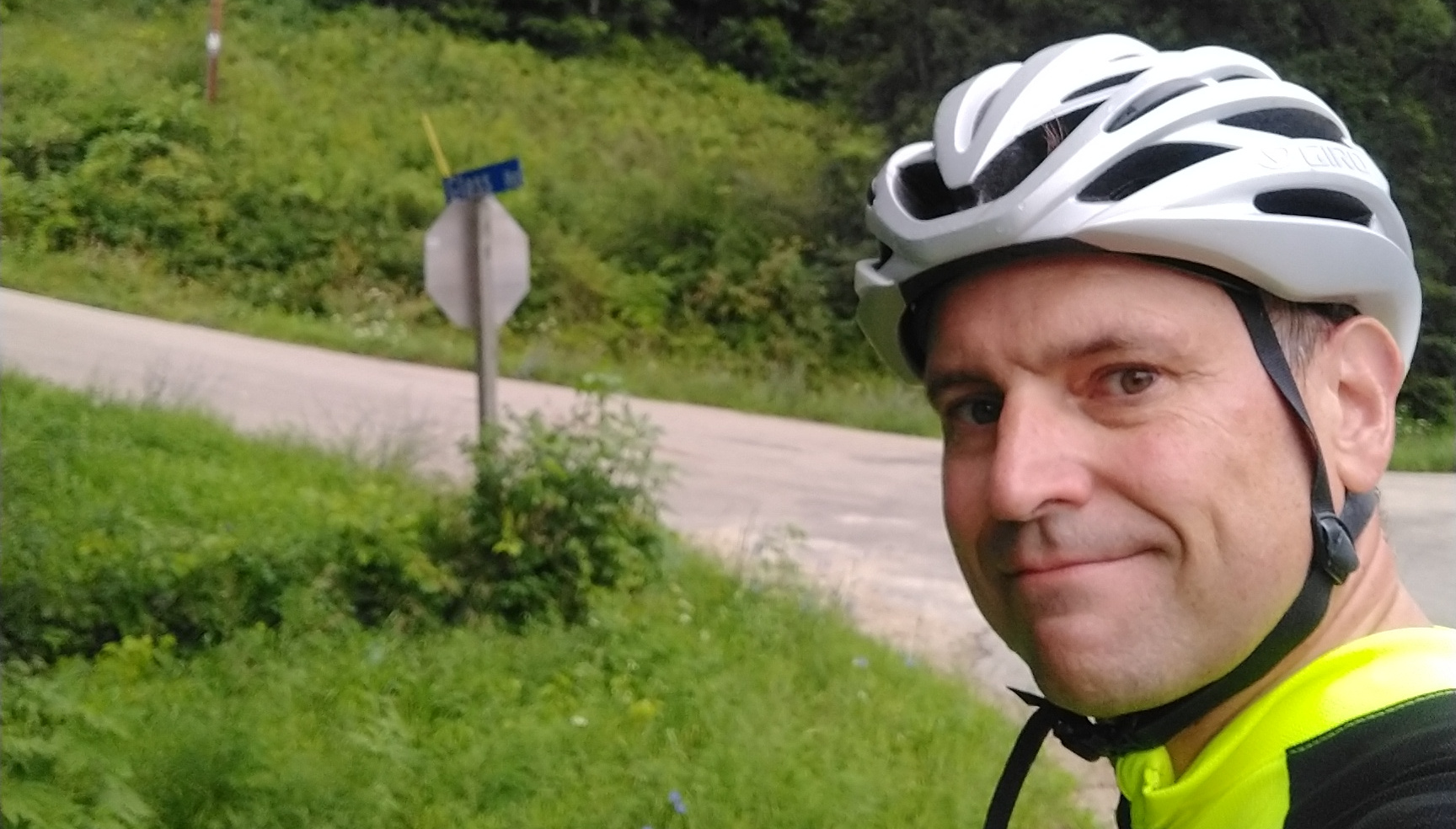 The last time that I was on Glass Road was with my grandfather, Earl Glass, enjoying his stories of growing up on the homestead in the days before electricity. The homestead is still an active farm, and I stopped for a moment to take it in. I finished the loop of Glass Road, continued south on Highway T, and went as fast as I could down Highway 14 to the Kwk Stop in Readstown for some food. Passing a few moments on the bench out front with peanut butter crackers, a Snickers Bar, and Coke had me ready for the next part of my trip.
Gays Mills
With Gays Mills as my next destination, I turned south on County Highway M crossing Reads Creek, another trout stream I fished with dad that everyone always called "Black Bottom".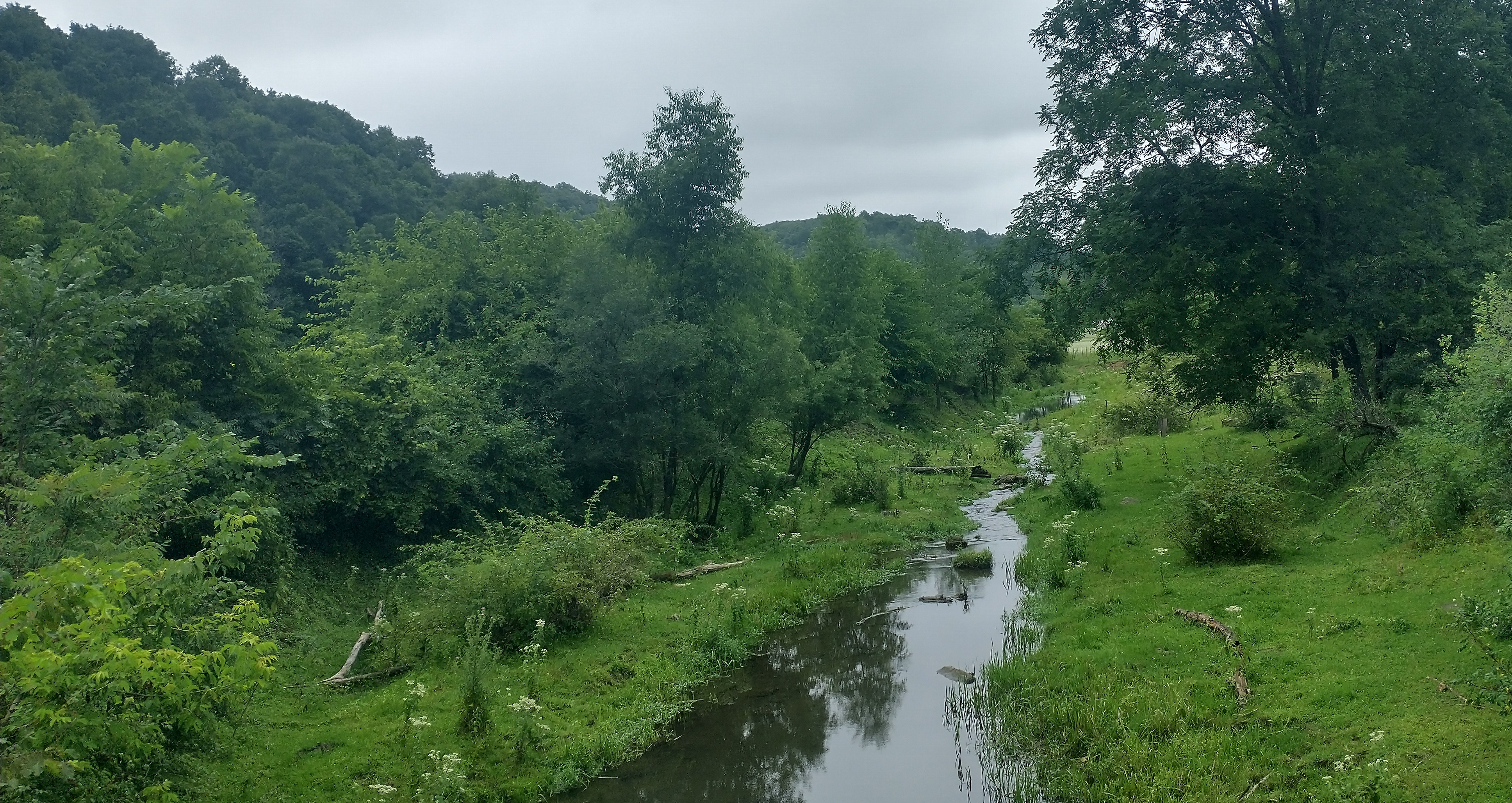 The next roads were unfamiliar but awesome. Norske Road was long, steep, and beautiful. On the far side of the ridge, a swift descent down Prestgard Road and Norwegian Hollow led to another climb up Aspen Road to Pine Knob, an interesting rock formation at the top of the hill.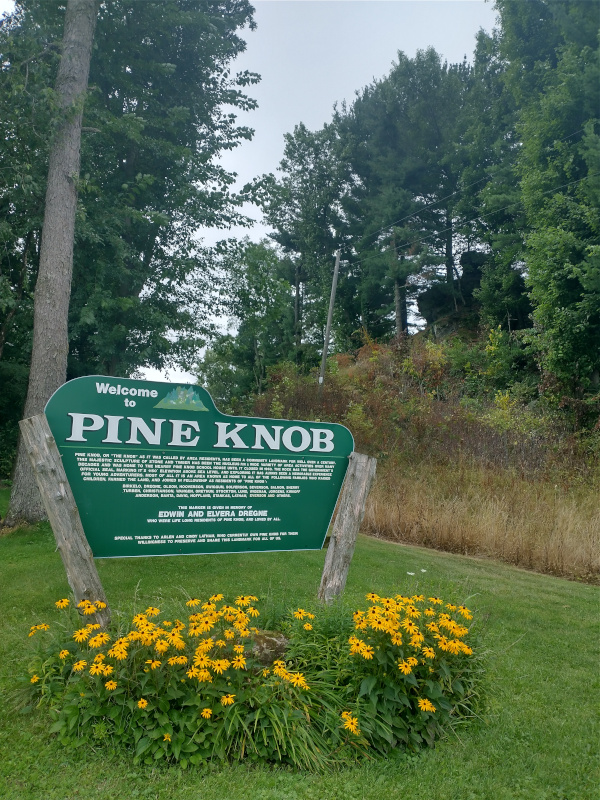 The descent down Pine Knob Road was beautiful, and I made my way along Tainter Creek on B, and then took Point Road along the Kickapoo into Gays Mills.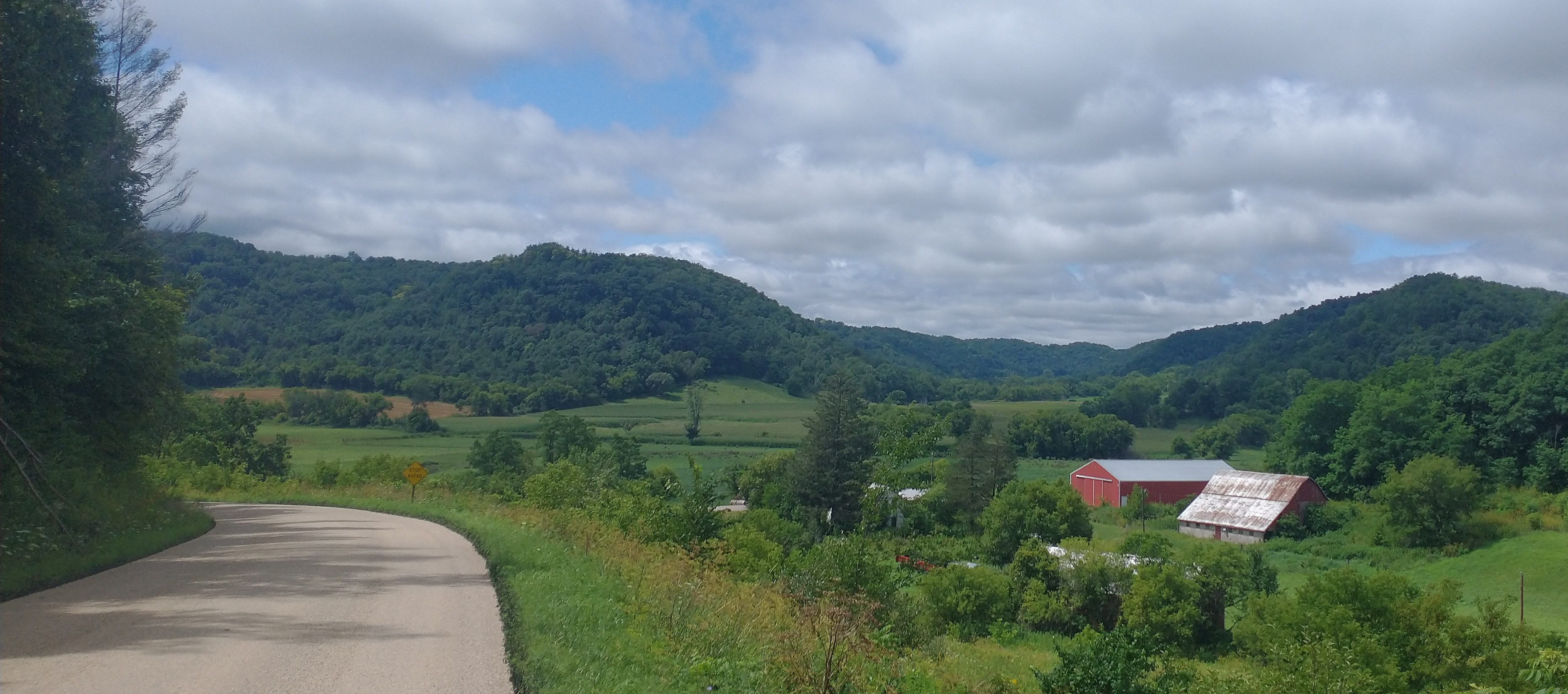 After a brief visit with my aunt and cousin, I rode through the remnants of Gays Mills, which has been devastated by increasingly frequent floods. Many of the older buildings and houses have been demolished, including the old high school which was prominently missing from the last time I had been in town.
I knew that if I made it this far that I wanted to try going up Highway 171 to the apple orchards on the eastern ridge above the town. From driving this road, I knew it was steep, and it didn't disappoint. The Strava segment lists it as a well deserved category 4. I stopped at one of the turn offs to take a picture.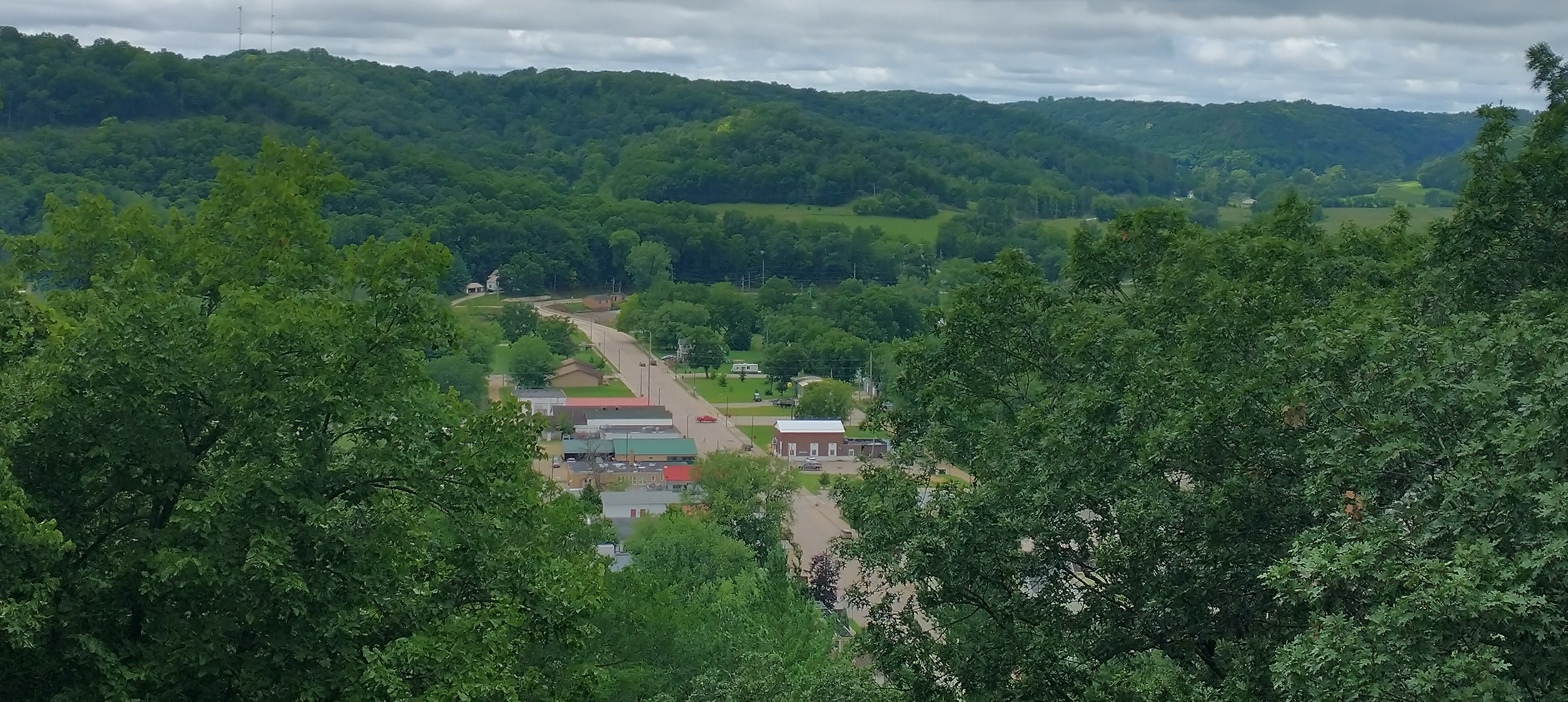 Unfortunately, the rest of 171 isn't a great ride. The road isn't in great shape and there is some traffic, making this the most nervous part of my trip. With tired legs, I was happy to reach Orchard View Road and make my way back to Soldiers Grove.
Summary
I had a wonderful birthday bicycle ride. It was an emotional trip down memory lane that still leaves me with a big smile on my face. This area just feels like home to me. Some other thoughts:
I really enjoyed the quiet roads and hills. I can't wait to go back and explore more of the area!
Gravel is fun, but I could even use bigger and knobbier tires. 38c didn't cut it!
Strava says I did 7 category 4 climbs! Not bad!
Drivers were mostly courteous. My cousin says it is because they are used to ATVs.
The Country Gardens Motel & Lounge is a great place to spend the night.
There is a public shower in the Soldiers Grove Park that feels great after a long day in the saddle.
There aren't many dairy cows out in the pasture anymore. I did see some beef and heifers on pasture, but the few active dairy farms that I saw were free-stall operations where the cows never leave the barn. I think it is unfortunate that dairy farms have switched to this system, but I suppose that is a different blog post.
Strava