For spring break this year, we decided to take a trip to Sevier County, Tennessee, home to Gatlinburg, Pigeon Forge, and innumerable tourist traps like Dollywood and the Titanic Museum1. While these things hold little interest for me, I was very interested in the Smoky Mountains, because I wanted to go climb a mountain pass like the riders in the Tour de France.
So, I packed up one of my bikes, a modernized 1975 Schwinn Le Tour. I have lighter and more modern bikes, but this bike is extra comfortable. The steel frame, the suspension saddle, wider tires, and a carbon seatpost dampen the bumps in the road, and the relaxed, upright geometry of this era of bikes means that my hands and back don't get tired on long rides.
First Ride
As we sat around on Sunday letting the kids relax, Mandi said that I should go for a ride and jumped at the chance. I didn't really have a sense of where I was going, so I headed for the back roads and started riding. Compared to rural roads in Wisconsin, the roads are in great shape. The roads were also very windy2, and go up and down frequently, with shorter climbs and descents. Drivers were mostly polite, waiting for me to crest a hill before passing. Twists, turns and hills come fast, and it is very common not to be able to see very far ahead. Even so, I felt safe on the roads. After about fifteen miles, I turned around and headed back to the hotel, because I didn't want to stay out too long on our first day of vacation. I thought I had a fairly good idea of what to expect on further rides, and I was excited for another one!
Scouting Out Newfound Gap
The next day, we drove to Great Smoky Mountains National Park and drove up the Newfound Gap to the Tennessee-North Carolina border. It was a long, twisty, drive to the top, and we stopped several times to take in the beautiful scenery. Unfortunately, the road to Clingman's Dome was closed, so we didn't get to go up the observation dome. It was cool seeing backpackers pausing to rest on their journey on the Appalacian Trail.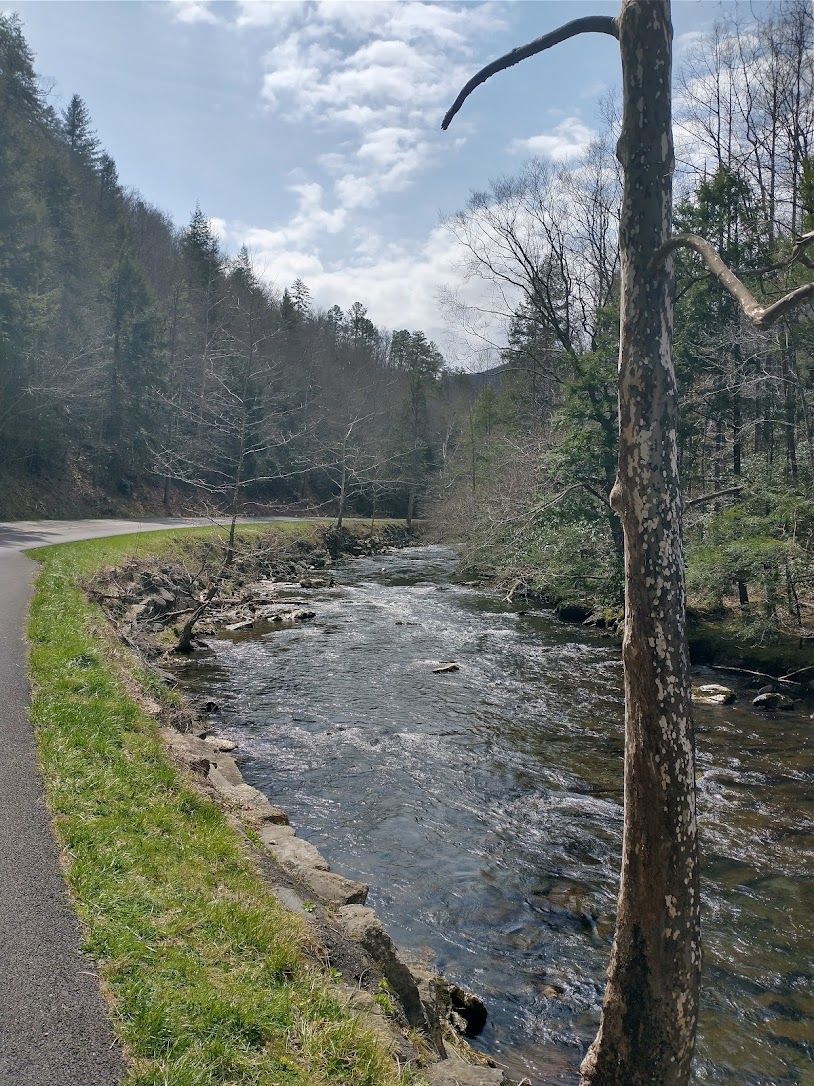 The Long Climb
I kept thinking about riding my bike up the same route. The roads that I ride in the Driftless Area of Wisconsin oftem have gradients of 8% to 15%, but they aren't usually very long. Driving up the Newfound Gap, I knew I was in for a very long climb, although not as steep. I was determined to give it a try the following day. Leaving the hotel about 10, it didn't take long to realize that I had forgotten my water bottles, but luckily I was able to pick up a couple of Gatorades, a large water bottle, and a giant Snickers bar at a gas station. After 20 miles of back roads and a busy stretch of Highway 321, I finally made it to the road that would take me into the park, Wear Cove Gap Road. This road was unexpectedly steep, with my bike computer reading over 20%. I made it up the first steep section, but I had to walk up the second one. Fortunately, the park entrance wasn't far, and the roads went back to a reasonable slope!
Once in the park, I followed the Little River Gorge Road, a scenic winding road along the Little River. Stopping for a snack, I watched a young man fly fishing and thought about my dad, who would have loved trout fishing there. Traffic was heavy, and I pulled off frequently to let cars pass. The road turned into the Fighting Creek Gap Road, which was a long climb itself. On the other side, I experienced my first long descent and enjoyed it immensely, although I did drop my chain from pedalling too fast. Stopping to put the chain back on, I met a nice couple from Michigan and gave their dog some attention. I finished the descent and made it to the Sugarlands Visitor Center, where I filled up my Gatorade bottles. Unfortunately, I threw away the large water bottle, because I didn't think I would need it. Surely two Gatorade bottles would be enough!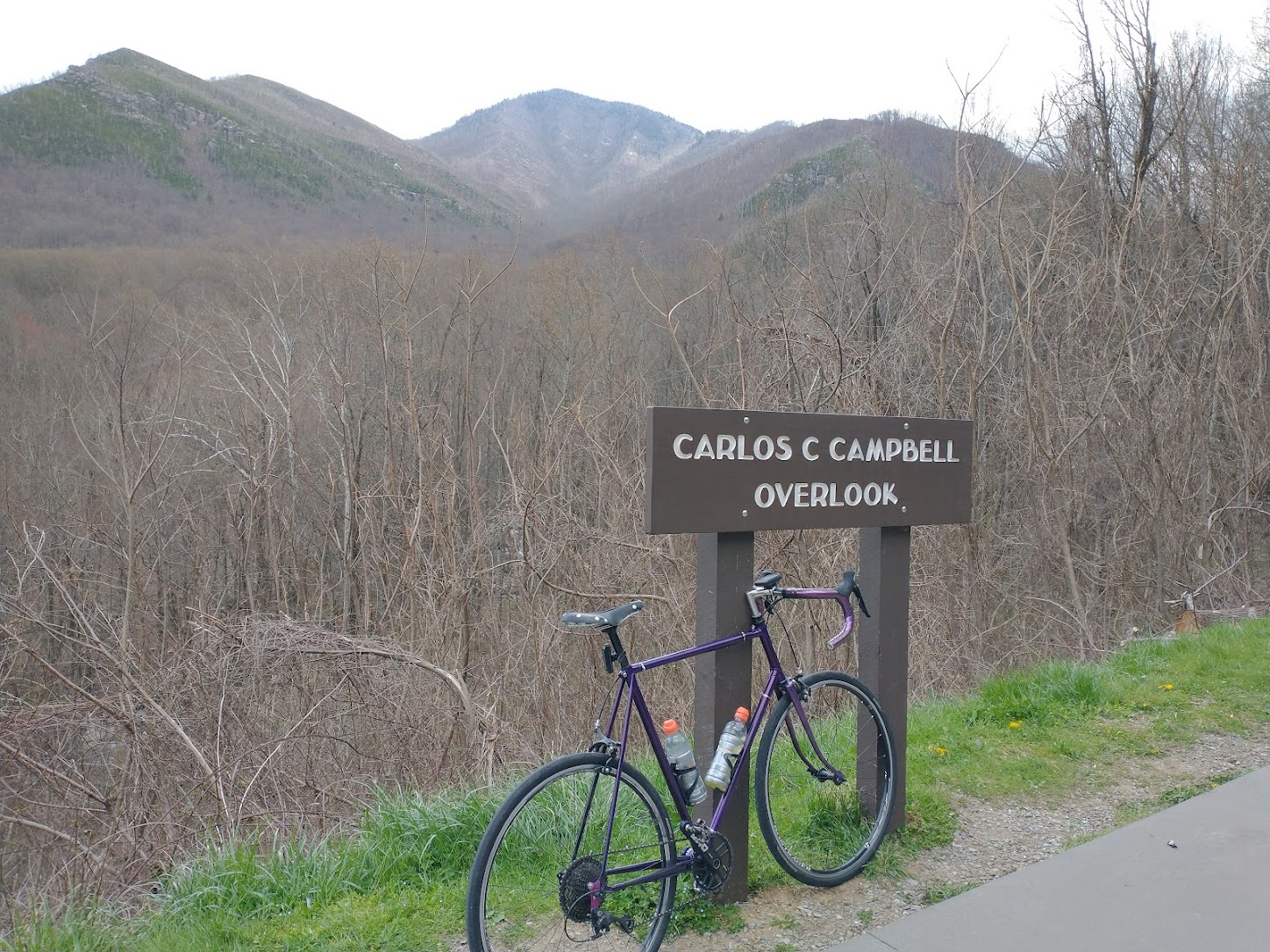 Then began my journey up U.S. 441, Newfound Gap Road. This would be the longest climb that I've ever done, over two hours and more than 2000 vertical feet! The grade was managable but relentless. The views were stunning. I stopped several times, including at the Campbell Overlook, early in the climb, and again at the Chimneys Picnic Area. There was a lot of slow moving, courteous, traffic, and I was even cheered a couple of times! As I climbed higher and higher, I realized both that I still had about an hour of riding to get to the top and that I didn't have enough water. As I passed the Alum Cave Bluffs Trailhead, I almost asked for some water from a woman who was digging through her cooler in the parking lot; in hindsight I wish I would have. Continuing on, I kept arguing with myself about turning around; at one point I considered filling my bottles in the mountain stream. Finally, the cold, the lengthening shadows, the emptiness of my water bottles, and my sense of self preservation convinced me to turn around.
I put my rain jacket on before the descent, because I knew that it was going to be fast and cold. What took hours to climb, only took minutes to descend. According to Strava, I hit fifty miles an hour at some point, and was only passed by two cars, one right at at the bottom. I stopped at the visitor center again to fill up my bottles, then headed in to Gatlinburg along the Gatlinburg Trail to meet Mandi and the kids, get some food, and eventually get back to the hotel.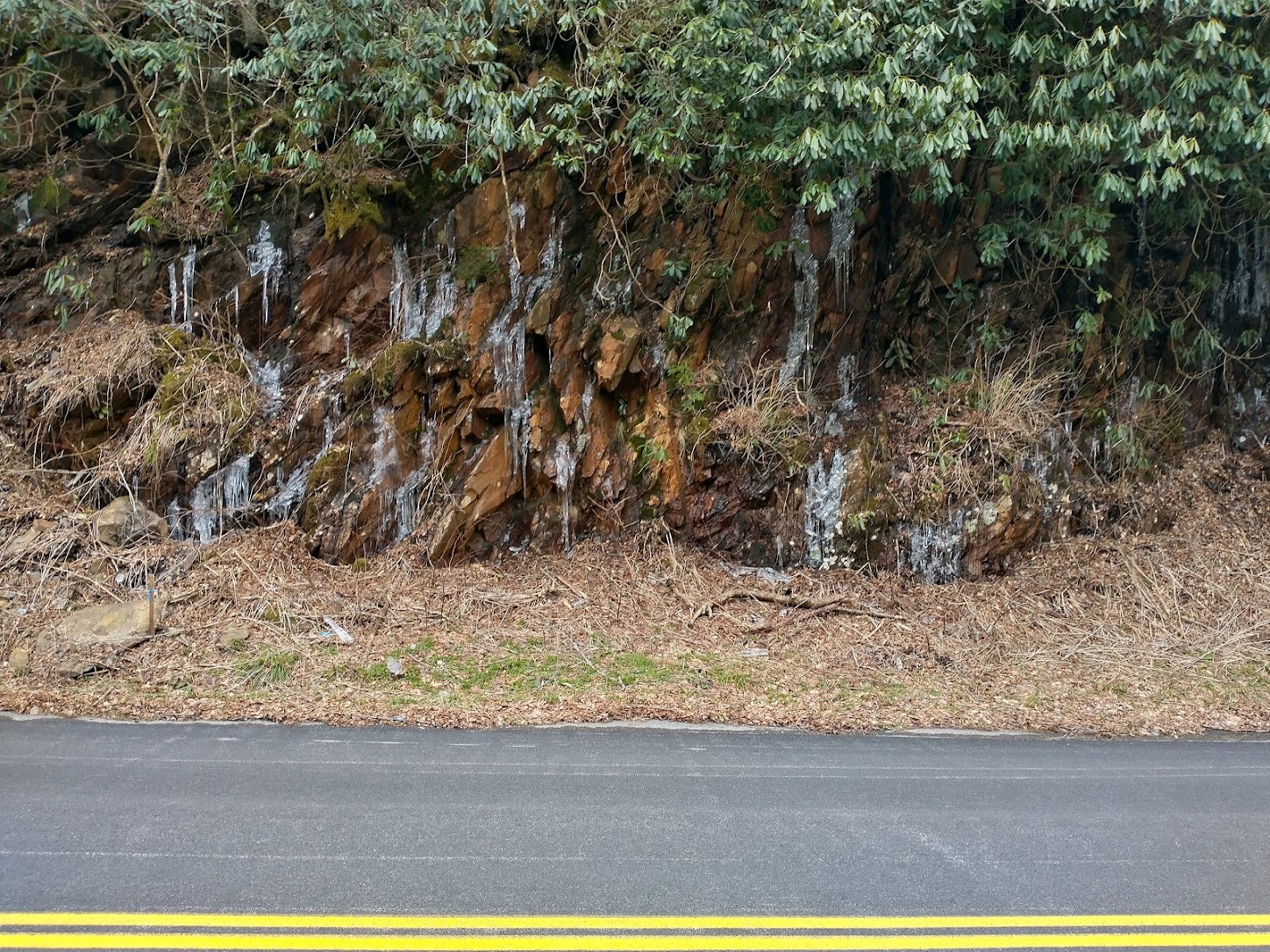 Summary
I was fortunate to ride when I did, because the next day there was an alert for high winds and wildfires, and after smelling smoke, we learned that there were fires near the park. Some things I'll remember for next time are:
Make a pre-ride checklist.
Start earlier and closer to the park.
Be in better shape!
Take more water than you think you need!
I'm not sure I would ride in this national park again. While the views were amazing, the traffic was heavy, and I spent a lot of time looking over my shoulder and managing the ride. Even so, my first adventure in the mountains was a success and was incredibly rewarding.
---
The Titanic Museum was a pleasant surprise of the trip and is definitely worth a visit. ↩︎

Winding, confounded English spelling. ↩︎